Steve Gissin – Founder & Managing Director
Steve is a highly strategic user experience consultant who guides senior leaders of Fortune 500 companies in the study and improvement of their products.
As a professional facilitator, Steve has provided research solutions for some of the top e-commerce companies in the US as well as internationally. During his 15+ years of experience, he has managed and moderated hundreds of focus groups, ideation sessions, individual interviews, usability lab sessions, and eye tracking research for a variety of clients across many industries. Steve has guided venture-funded start ups, by providing strategic research services, as they launch their initial online products and services.
Prior to founding OneSpark, Steve was co-founder of a national interactive research firm as well as a former Director of User Experience for a national interactive design firm. At OneSpark he sets the overall vision, while managing client relationships and providing them with strategic user research consulting.
Steve holds a bachelor's degree in English from the State University of New York at Brockport. He is also a certified Creative Problem Solving Institute (CPSI) facilitator. See Steve's full profile on LinkedIn.
Jen Hruska – Senior UX Researcher
Jen has experience in all aspects of user experience research from recruiting, to moderating, to analyzing results—and enjoys it all! Working in the usability lab at the University of Washington allowed her access to the Tobii eye tracker where she learned how to not only run eye tracking studies, but has trained students and usability specialists on how to use the eye tracking system. Jen has worked on many eye tracking and usability testing projects for our Fortune 500 company clients.
Jen has a bachelor's degree in Technical Communication from the University of Washington with a focus in technical writing and instructional design. She spent an additional two years at the University of Washington as she completed her master's degree in Human Centered Design and Engineering with a focus in usability testing. She has training in both qualitative and quantitative research methodologies including visual rhetoric, human-computer interaction, user interface design, information systems, and user-centered design. See Jen's full profile on LinkedIn.
Kyle Manske – UX Research Analyst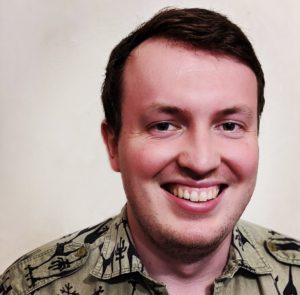 Kyle is a UX Research Analyst located in Seattle, WA. He is pursuing his master's degree in Human Centered Design & Engineering at University of Washington. He has experience with usability studies, research analysis, and experimental design.
Kyle has a bachelor's degree in Psychology from Western Washington University with a focus on cognitive psychology and user experience design. Prior to working in UX, Kyle spent time working as a bartender at beer bars and breweries. In his free time he likes to play videogames and cuddle one or both of his two cats. See Kyle's profile on LinkedIn.